Storm Water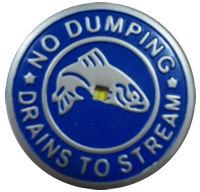 All of the storm water catch basins and drains in the village eventually flow to a stream or pond. No storm drains flow to a treatment plant to be processed.
Hazardous household wastes such as cleaners, paints, and solvents should never be disposed of by dumping on the ground or down the drain. They should be stored in a safe place until they can be taken to a hazardous waste collection site.
Never pour used motor oil, antifreeze, or fuel of any kind into a storm drain. It is both illegal and hazardous to public safety. These items can be disposed of at the local recycle site.