Police Department
The Cridersville Police Department provides 24 hour a day, 7 days a week police protection and services to the Village Of Cridersville. Staffing includes Chief Paul A. Robbins, two additional full-time officers; Lt. Brian Creech and Patrolman Nick Rayoum, six part-time officers, and one part-time clerk.
Chief Paul A. Robbins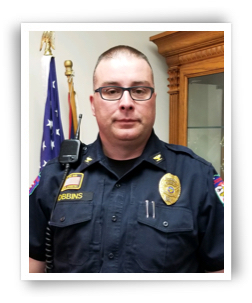 I am Paul A. Robbins and I serve as the Chief of Police for the Village of Cridersville. I began my career with the department in 2013 as a part-time Patrolman. In 2017 I was promoted to Sergeant then in March of 2019 I was assigned to acting Chief of Police. In April of 2019 I received a promotion to Chief of Police. Additionally I work as part of the Grand Lake Task Force. I began my Law Enforcement career with the Shelby County Sheriff's Office prior to becoming a Patrolman for Cridersville. In addition, I previously worked for the Allen County Sheriffs Office as a School Resource Officer for the Elida Local School District.
As Chief, I work hard to provide the community with a police department that strives for excellence in all it does. With the committed work of all our Cridersville Police Officers, our mission is to reduce crime and improve public safety by enforcing the laws, solving probems, providing crime prevention education, and encouraging citizens to take responsibility for community safety, health, and quality of life. We will continue to serve all people within our jurisdiction with respect, fairness, and compassion.
Our pledge to enhance the quality of life throughout the village is that of Excellence, Initiative, and Integrity. It is our goal to continue being a responsive, pro-active and caring department making Cridersville a safe place to live, work, and visit.
Area Departments