Police Department
The Cridersville Police Department provides 24 hour a day, 7 days a week police protection and services to the Village Of Cridersville. Staffing includes Chief John Drake, two additional full time officers, one full time dual purpose K-9, ten part time officers, and one part time clerk.
Chief John D. Drake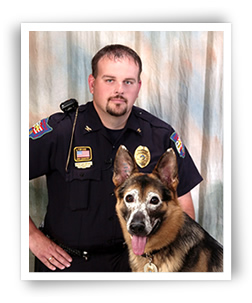 I am John D. Drake and I serve as the Chief of Police for the Village of Cridersville. I began my career with the department in 1991 as an auxiliary police officer. In 1994 I was promoted to Sergeant. The following year I was assigned to acting Chief of Police. In 1996 I received a promotion to Chief of Police. Additionally I have been part of the Grand Lake Task Force since 1993.
In February of 2005 I took the task of Cridersvilles first and only K-9 handler. After receiving donations from numerous public and private sources, which included the Wapakoneta VFW and Eagles, the purchase of K-9 Max was completed. Max was received from the Czech Republic.
Following his arrival six weeks of training began for Max and I. During the training Max was trained as a dual purpose K-9, which means he was trained and certified in detecting narcotics, tracking, and apprehension. In April of 2005 Max graduated and was put into service. With many narcotic seizures and subject apprehensions under his collar, Max has proven to be a valuable asset to the Cridersville Police Department. To date his largest seizure came in January of 2007 when his services were requested by the Ohio State Highway Patrol for a narcotics search. That search ended with Max recovering $100,000 of drug money.
As Chief I work hard to provide the community with a police department that strives for excellence in all it does. With the committed work of myself and all Cridersville Police Officers, our mission is to reduce crime and improve public safety by enforcing the laws, solving problems, providing crime prevention education and encouraging citizens to take responsibility for community safety and quality of life. We will continue to serve all people within our jurisdiction with respect, fairness, and compassion.
Our pledge to enhance the quality of life throughout the village is that of Excellence, Initiative, and Integrity. It is our goal to continue being a responsive, pro-active and caring department making Cridersville a safe place to live, work and visit.
Area Departments