Volunteer Fireman's Jamboree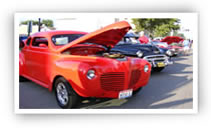 We welcome you to another year of family fun for all. The 55th Annual Firemans Jamboree is July 12th and 13th this year. The Organization thanks you for your continued support and looks forward to seeing you at this years event. We are changing things up a bit. The Car Show will be on Friday evening starting at 6:00 pm. On Friday night in keeping the event fresh, we've moved our Firemens 5k run/walk to Friday evening at 7:00 pm. NEW THIS YEAR, Saturday evening at 5:00 pm "Garden Tractor Pulls" on Main St. Please come spend the weekend with us and support your local Fire Department. We look forward to seeing you and your family at our piece of "Small Town Hospitality" the only way we know how to do it, Serving others. Checkout our Facebook page for updates and early signups for the 5k as well as the Car Show and Parade.
Check us out on Facebook:
https://www.facebook.com/Cridersvillefiremansjamboree/
Sincerely Yours in Safety,
Rick Miller/Fire Chief
Jamboree Highlights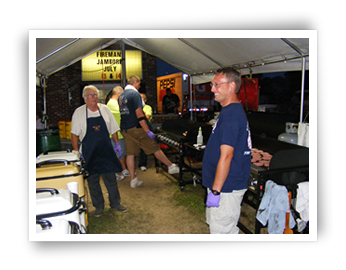 Friday July 12th 2019:
Annual Firemens 5k Run/Walk New Year/New Time 7;00 pm. Traditional race format. Pre register info on our Facebook Page or signup at 6:00pm
Car Show 6:00 pm on Main St. Signup online or starting at 4:30 Pm.
Midway opens at 6:00 pm. with food, rides, & games
Back by popular demand,, "Family Fun Area" on Eastside of station. Opens at 6:00 pm.
Live Entertainment "Family Fun Area" 6:00 pm to 8:00 pm.
Bingo starts at 7:00 pm. (In Station)
"The Earthquakers" perform in the Entertainment Tent at 8:00 pm to.11:00 pm. (Behind Building)
Saturday July 13th 2019:
Uncle Louie's (HA) BBQ Chicken Dinners at Noon.
Food Tent opens at Noon
Midway Opens at Noon.
Grand Parade down Main St. at 1:00 pm.
Blessing of the Badges (In front of the Firehouse after the Parade) Fire,EMS Law Enforcement and Dispatchers.
Cornhole Tourn: 2:30 pm in the Entertainment Tent
Entertainment Tent opens at 3:00 p.m. (Behind Building)
Kids Ride Special after parade until 5:00 p.m
Garden Tractor Pulls on Main St. 5:00 pm
Special Bingo starts at 4:00 pm to 6;00 pm. Special prizes to be given away. Regular Bingo at 7:00 p.m. ( In Station)
"Brother Believe Me" from 8:00 p.m. to 11:00 p.m.(Entertainment Tent)
Grand Prize Drawing at 11:15 p.m. (Front of Station) Plus lots more.